May 31, 2023
BANGKOK – Speculation is rife that Pheu Thai will abandon the Move Forward-led coalition to form an alternative alliance with Bhumjaithai Party. However, new signs have emerged suggesting that this will not be the case.
Move Forward, which won 151 seats in the May 14 election, has announced it will form a coalition government with Pheu Thai, which earned 141 seats, and six smaller parties. All in all, the Move Forward-led coalition would command 312 out of 500 MPs.
Remarks made by whistleblower Chuwit Kamolvisit fuelled the speculation and heightened anxiety among Move Forward supporters.
Chuwit posted on Facebook last week that secret negotiations were being conducted for what he called a "come home" deal.
Chuwit claimed he had learned that Pheu Thai is secretly talking with Bhumjaithai and Gen Prawit Wongsuwan's Palang Pracharath Party to form a coalition government without Move Forward. In return for allowing Pheu Thai to become coalition leader, Prawit, one of the 2014 coup leaders, would allow former prime minister Thaksin Shinawatra to return to Thailand, Chuwit said.
Prawit would also have senators loyal to him vote for a Pheu Thai prime minister candidate, probably Srettha Thavisin, he speculated.
As the rumours ran wild, Srettha was seen attending Leicester City's last match of the Premier League season together with Bhumjaithai leader Anutin Charnvirakul.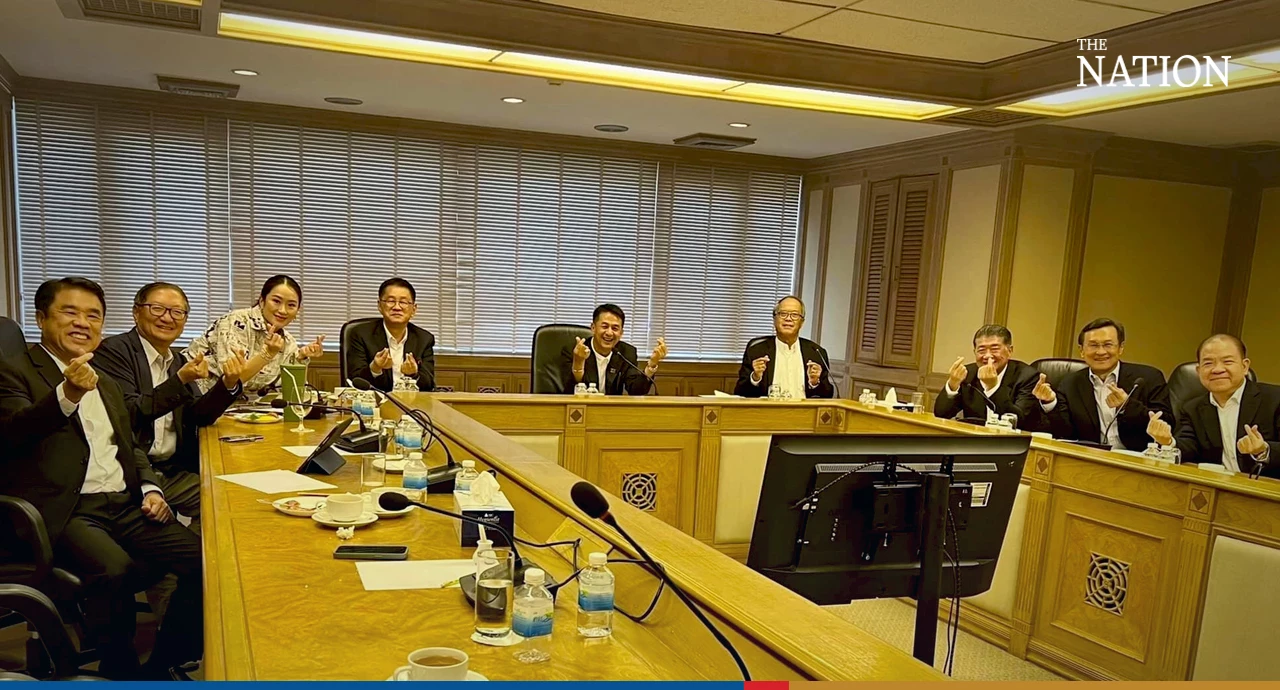 Those lending weight to the speculation cited the photo of the two men smiling together as graphic proof of a secret deal.
But Srettha on Monday denied doing any backroom deal with Anutin, saying he had met the Bhumjaithai leader by chance. Srettha said he attended the match to provide moral support to Leicester City owner Aiyawatt Srivaddhanaprabha because he is close to his family.
Thaksin's youngest daughter, Paetongtarn "Ung Ing" Shinawatra also spoke out to deny the rumours.
Paetongtarn, also a Pheu Thai PM candidate, posted a photo of herself leading a meeting with eight senior party figures and said there was no secret deal, only a "love deal". The photo shows Paetongtarn, Pheu Thai leader Cholnan Srikaew, and seven other core members making heart signs with their fingers.
Some observers believe the photo signalled that Paetongtarn was now in charge of Pheu Thai affairs rather than party patriarch Thaksin.
Pheu Thai sources said Paetongtarn met her father in Singapore last week and told him to talk less and let her be responsible for rebranding the party to retain supporters and woo the younger generation. She warned him that Pheu Thai's image would be damaged beyond repair if it betrayed Move Forward, the sources said.
Following the Singapore meeting, the Care Group of former Thai Rak Thai core members close to Thaksin announced that Thaksin would suspend broadcasts via its Facebook Live channel.
The announcement was seen by analysts as a signal from Thaksin that he will leave his daughter to lead Pheu Thai affairs and allow it to join the Move Forward-led coalition.
That leaves only three hurdles for Move Forward: to resolve its dispute with Pheu Thai over the House Speaker's post, to secure another 64 parliamentary votes needed to elect Move Forward leader Pita Limjaroenrat as prime minister, and to overcome the charge that Pita should be disqualified from office for holding media shares. If the party can clear these three hurdles, Pita looks well set to head the next government as Thailand's next prime minister.