November 24, 2022
DHAKA – It was in the late 2010s that the government, under its Primary Education Development Programme (PEDP), began providing digital learning devices (mainly laptops, projectors, modems, and SIMs) to government primary schools across the country. This was part of an effort to digitalise primary education and make modern technology more accessible to children. However, by 2022, it seems that multimedia classrooms remain a distant reality in many cases. As a Prothom Alo investigation of 58 primary schools in Thakurgaon shows, 58.2 percent of schools have laptops that do not work, 15.5 percent received digital devices but no proper training, 31.03 percent have never used projectors to conduct lessons, and 8.95 percent received laptops that did not work from the get-go.
Moreover, of the 409 schools in Thakurgaon Sadar upazila, at least 27 lack either a laptop or a projector, thus making it impossible for them to conduct multimedia lessons. And while some schools did receive all the necessary devices, no teachers were trained to operate these effectively. This is quite concerning.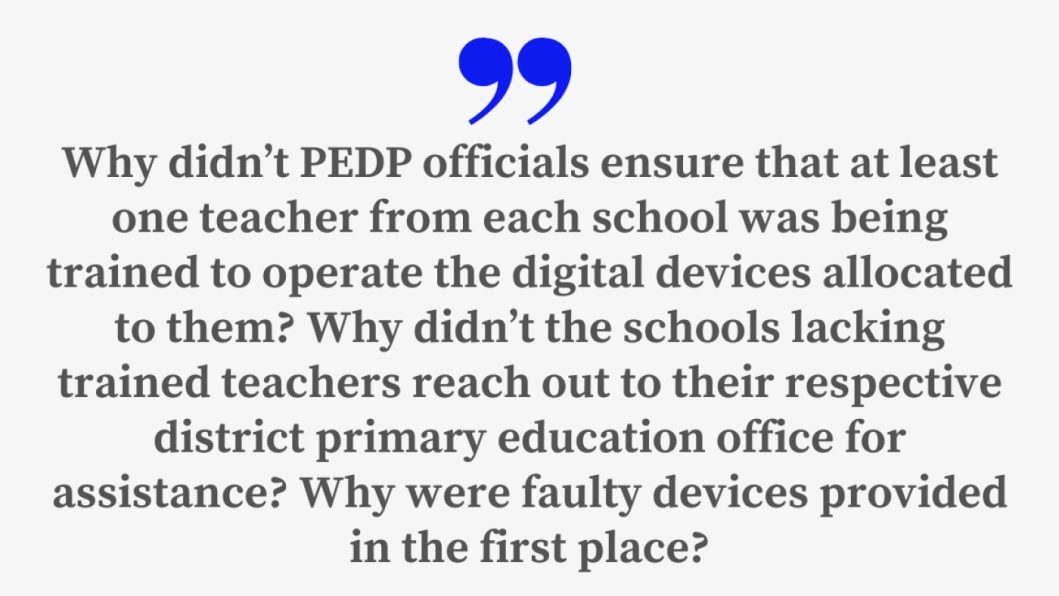 There can be no denying that multimedia classrooms help make lessons more interesting and captivating for young students. Only one primary school (of the aforementioned 58 in Thakurgaon) was found to conduct at least one multimedia lesson every day, and its head teacher reported the effectiveness of such lessons for children in terms of information retention. But such projects, despite their potential to change the life of target beneficiaries, are often turned futile by the inefficiency and mismanagement of those involved. Unfortunately, this is nothing new when it comes to government projects, regardless of their scale or sector. Even in late 2019, the same daily reported a similar scenario in Badarganj upazila of Rangpur, where digital devices provided to 25 of the 26 schools investigated were found to be collecting dust. In many cases, due to lack of security, laptops are kept in the homes of teachers or other staff members, often for months on end, without ever being used for their intended purpose.
All this points to a recurring issue in the implementation of government projects: lack of follow-up. Why didn't PEDP officials ensure that at least one teacher from each school was being trained to operate the digital devices allocated to them? Why didn't the schools lacking trained teachers reach out to their respective district primary education office for assistance? Why were faulty devices provided in the first place? And why was a separate budget not given to schools for the repair and maintenance of these devices?
We urge the authorities to take this issue seriously and follow up on the performance of PEDP-linked primary schools across the country to make the programme a success. If done right, digitalisation of our education sector can hugely benefit young students, especially in terms of preparing them to be more comfortable using technology in the long term.