March 10, 2023
JAKARTA – Young politicians give some tips on carving out a career in national politics and navigating the burden that comes with the job.
In mid-January, Jacinda Ardern resigned as New Zealand's prime minister, saying: "I just don't have enough in the tank."
"I know there will be much discussion in the aftermath of this decision to understand the so-called 'real' reason was," she told a press conference, as reported by Reuters.
"Politicians are human. We give all we can for as long as possible, and then it's time. And for me, it's time," she said.
How did young Indonesian politicians take Ardern's resignation and her reason for it? What strategies did they implement to deal with the workplace burnout they experienced?
Never easy
Rahayu "Sara" Saraswati noted that being a "young politician" had never been easy, especially for those who was also interested in nonpolitical matter and had other responsibilities outside of politics.
"And as a mother and a politician, the demands on your time are very high," added Sara, 37, a mother of three from the Gerindra Party who served as a lawmaker in the 2014-2019 House of Representatives.
Currently, she chairs Gerindra's Tunas Indonesia Raya, an organization for youths aged 17-35 years.
Sara also said that she preferred to work behind-the-scenes on nonpolitical initiatives, such as with a nongovernmental group like Parinama Astha, which tackles human trafficking and supports the rights of women and children.
As for why someone might become interested in politics, she said an individual might be motivated by their personal standards and expectations, as well as the expectations of the people closest to them.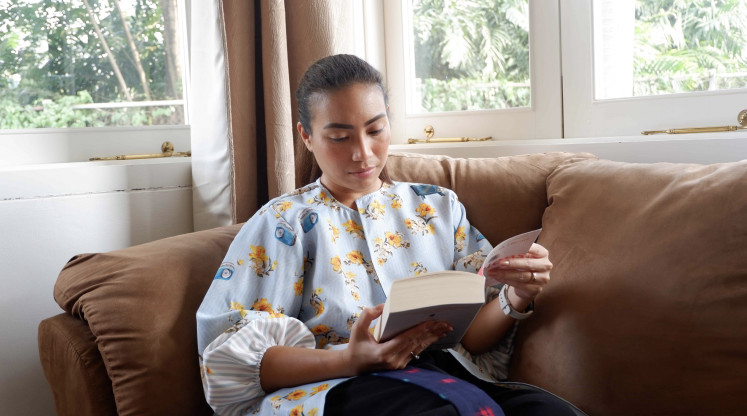 Keeping priorities: Rahayu "Sara" Saraswati, a former Gerindra Party legislator and mother of three, says it's essential for young politicians, especially working mothers, to prioritize their schedule to reduce the chance of burnout. (Courtesy of Rahayu Saraswati) (Archive/Courtesy of Rahayu Saraswati)
Hunting for votes was just as important as following one's heart in politics, she continued, and that this made some people push themselves beyond their limits. This might be difficult for others, "Yet, some people are just overachievers," Sara remarked.
"Unlike the two-dimensional world, [politics] has depth. Politics, for instance, supposedly serves the public interest by improving the lives of citizens, but how exactly does this work in practice? All of us [politicians] have our unique perspectives," she said.
"Others with an idealistic view imagined that they would fight for the people's rights, going door to door, speaking in public, [doing] campaigns and so on."
Sara said that female politicians faced "additional scrutiny over their conduct, which can add to the stress and that can lead to burnout", while trying to be a good mother and building a political career.
"If being a good mother requires round-the-clock involvement, then we [professional women] will never measure up," she explained. "Then it becomes a burden if someone labels you a bad mother when you can't be present all the time."
Adiyoga Nusyirwan, 32, a member of a Regional Representatives Council (DPD) from the Indonesian Democratic Party of Struggle (PDI-P) faction, maintains his own schedule for his political activities, though he enjoys developing himself as a politician and politics was always his dream.
"I've been doing it for as long as I can remember, and it's been my passion ever since I proved that I could make it," said Adiyoga, while suggesting that one possible drawback for younger politicians could be that they might feel like they had less personal time.
The first few months were the most difficult for new politicians, said William Aditya Sarana, a member of a Regional Legislative Council (DPRD) from the Indonesia Solidarity Party (PSI) faction. The 26-year-old compared becoming a politician with training for and running a marathon: It demanded mental readiness to deal with the pressure and agility to navigate sudden changes.
"So you need a support structure, like your political faction, and if you do have strong support, you should be OK," said William, adding that he had adopted the worldview of Zeno of Citium, the founder of Stoicism.
"On the other hand, I also learned to focus more on the things that I can manage rather than the things that I can't control, such as political pressure," he said.
Going professional
According to Arya Fernandes, head of politics and social change at the Centre for Strategic and International Studies (CSIS), Jakarta, new politicians who had been active during their youth, such as with charity programs at their university, preferred to devote most of their time to their work.
He noted that problems emerged when people with little prior political experience were in charge, while emphasizing the importance of a politician's ability to balance their personal and professional commitments.
Politicians with a greater business background tended to "approach their political career like a corporate job", he said, and that this was a growing trend he had noticed over the past few years.
Meanwhile, fresh graduates embarking on a political career might find themselves in an entirely different world than they were used to, as most working members of a political party needed to get paid.
"Here in Indonesia, they will receive minimal funding, acceptable for them [young politicians] in their first and second year, but during their third year and onwards, if this happens when everything is unclear, they could quickly burn out," he said.
William added that it was crucial for anyone entering politics to have a mentor that could guide them, and that it was invaluable having someone with significant experience and more insight to guide them through the rougher political patches.
Time & support
Puteri Komarudin, a House member from the Golkar Party who has an 11-month-old daughter, stressed the importance of time management and self-care, adding that she tried to fit in her favorite sports, running and boxing, whenever she could while away from home.
She also said it helped to appreciate the little things in life, such as taking in the lush greenery while vacationing or working outside Jakarta.
Puteri concurred that women in politics faced additional challenges, such as feeding their children at work. While she pointed out that there had been developments in women's political participation over the past few years, future generations still had work to do, such as in building spaces designed for families that were free of cigarette smoke and suitable for nursing mothers.
It was also particularly complicated for women with infants, as they were typically their children's primary caregivers.
"This [childcare] concept is deemed crucial, especially for millennials and Gen Z that have dedicated themselves to be part of the legislature," she said.
Puteri recommended that young people who were interested in politics should join the student council to gain practical experience. Formerly an active member of the Indonesian Student Association in Australia (PPIA) while attending university in Melbourne, Puteri advised aspiring politicians to "not be frightened away" and urged them to get involved while they were still young.
"It helps you to improve your intrapersonal skills and do activities that could help distract you from the hustle and bustle of [your studies]," she added.
Adiyoga underlined that he found politics to be fulfilling, and that people should stay passionate and enthusiastic about their chosen career.
"Balance is the key. I, too, am continuously learning about it," he said.