September 21, 2018
Prime Minister Shinzo Abe was reelected president of the ruling Liberal Democratic Party for a third consecutive term on Thursday.
"I will put all my strength and soul into fulfilling my duty," Abe said after his victory.
A total of 810 votes were cast in the LDP presidential poll, half by Diet lawmakers and half by rank-and-file party members.
After securing the support of five LDP factions, led respectively by Hiroyuki Hosoda, Taro Aso, Fumio Kishida, Toshihiro Nikai and Nobuteru Ishihara, Abe won 329 of the 405 votes from LDP lawmakers, against 73 votes for Ishiba.
Voting from rank-and-file party members closed on Wednesday. Abe won 224 votes of the 405 votes available from rank-and-file party members, while Ishiba won 181.
At a press conference later on the same day, Abe said he intends to reshuffle his Cabinet and the LDP executive lineup shortly after he returns from New York, where he is scheduled to attend a U.N. General Assembly meeting. He reaffirmed his intention to take on amending the Constitution, something that has never been carried out in more than 70 years.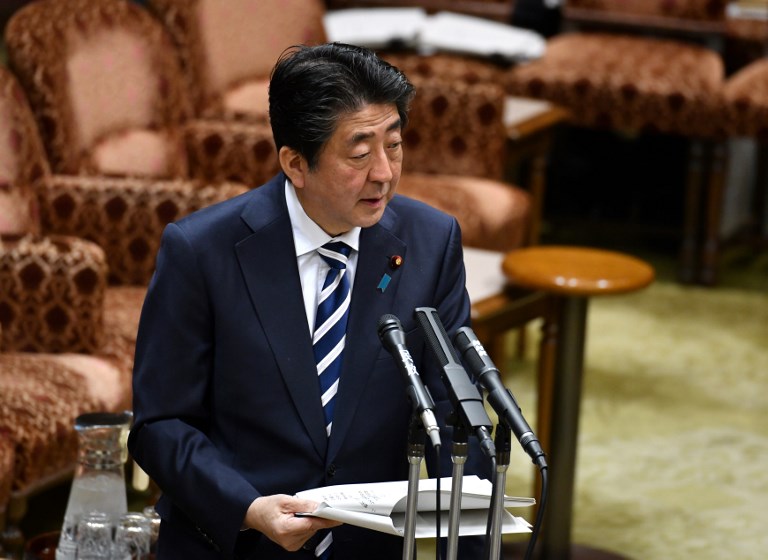 "Now that we have the election outcome, the LDP should go forward in unity. This is our tradition," Abe said of the constitutional amendment.
He also vowed to tackle the national challenges of the falling birthrate and aging population by carrying out social security reforms based on his policy achievements in the past six years as prime minister and LDP president.
It was the first LDP presidential election in six years in which different candidates competed for the post, as Abe was unopposed in the election three years ago. It was also the first since 2003 in which an incumbent prime minister was challenged for the party leadership.
Effect of Hokkaido quake
In the wake of a powerful earthquake that struck Hokkaido earlier this month, Abe and Ishiba refrained from campaign activities for three days after official campaigning for the LDP presidential election kicked off. During the campaign, they were reserved about making appearances.
On Wednesday, Akira Amari, a former state minister in charge of economic revitalization who currently serves as secretary general of the LDP's Election Strategy Headquarters, told reporters: "The incumbent president has both advantages and disadvantages. The campaigning was held fairly."
After a street speech in Shibuya Ward, Tokyo, Ishiba told reporters: "My fellow lawmakers did their best until the end despite a difficult situation. I'm satisfied with the election campaign."
However, he also voiced dissatisfaction, saying, "I wish I could have had more chances to stand on the streets and make appearances with the prime minister."