July 1, 2022
BANGKOK – The world is moving towards the post-Covid-19 era after the disease has caused severe damage to global healthcare services, scientific leaders said during the online seminar "Evolving Healthcare Priorities in Asia Pacific – Learnings from Covid-19" on Thursday.
Prof Ivan Hung, chief of the Division of Infectious Disease at the University of Hong Kong's Li Ka Shing Faculty of Medicine, said Covid-19 cases in Asia Pacific have risen periodically from 1.68 million in 2020 to 53.9 million in 2021 and 164 million in 2022.
"However, Asia-Pacific has basically one of the highest rates of vaccination, such as in Singapore, China and South Korea," he said.
He also pointed out that the Covid-19 pandemic has disrupted routine treatment for non-communicable diseases, such as cancer, diphtheria, measles and polio.
"The return to routine care is imperative to prevent non-Covid-19-related deaths," he said.
He added that criteria allowing the world to move from Covid-19 pandemic to endemic are:
Widespread infection and mild disease with Omicron
Good, natural immunity achieved by infection and high vaccination rate
Effective antiviral treatment
Second generation Omicron matched vaccine
He expected trial data on second generation Omicron matched vaccine will be available soon.Dr Anna Lisa T Ong Lim, chief of University of The Philiipines's Division of Infectious and Tropical Disease in Paediatrics, said Covid-19 restrictions, such as lockdowns, have been primary intervention to contain disease transmission:

Stringency index, containment and health index show variation across countries
Higher stringency did not necessarily equate to less transmission
The World Health Organisation (WHO) estimates of excess mortality show that best performing countries record the highest income and institutional quality.

She pointed out that many essential health services were also disrupted amid the Covid-19 crisis, especially in the Eastern Mediterranean, followed by Southeast Asia, Africa, Western Pacific and Europe.

"Restrictions have led to limited access to in-person healthcare services," she said.

She advised that providers and patients need to recognise this important paradigm shift in healthcare delivery as it has evolved.

"In the pandemic, telemedicine has become the norm because it is the only way for healthcare to be delivered in some conditions," she said, "Telemedicine has also opened the way for wider adoption of platforms."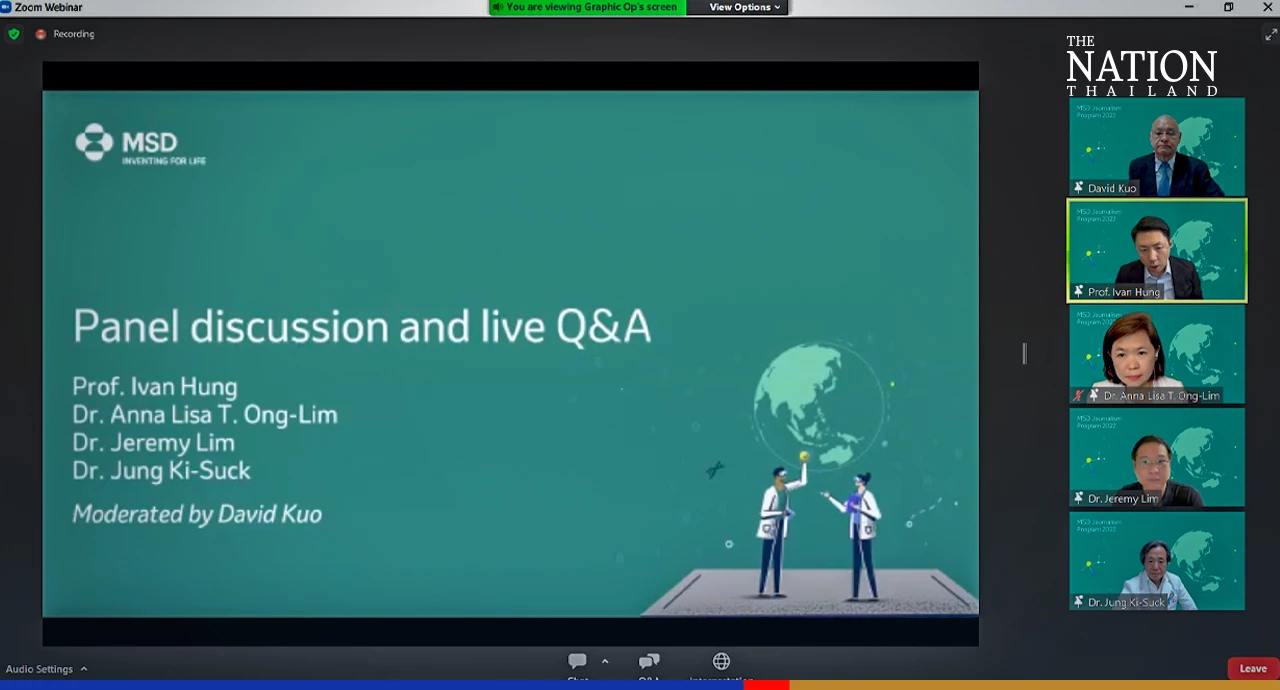 Dr Jeremy Lim, Assoc Professor and director of Global Health Programs at National University of Singapore, said the Covid-19 pandemic had caused healthcare issues to become existential among public.
"We were grateful that media could help to challenge us to engage and spread our narratives among the wider public," he said.
He also advised administrative organisations to listen to the public to meet their expectations, apply professional transformation on their working and maintain platforms for engagement with society to overcome the Covid-19 pandemic's impact on public.
"We have to recognise that when we open up [the country], the cases will spike. So the public need to understand, while the politicians need to be able to manage this," he added.
Dr Jung Ki-Suck, Professor of Pulmonary, Allergy and Critical Care Medicine at Halym University Medical Centre, South Korea, said partnerships, networks and information exchange have emerged amid Covid-19 pandemic, such as regional offices of WHO, Centres for Disease Control and Emergency Operations Centres.
He said the next generation of Covid-19 vaccines will be broader rather than specifically targeted, minimising severity and case fatality, and have long-term durability.
Apart from the next generation of vaccines, he added that alternative treatment for Covid-19 will also be available, such as antivirals nucleoside analogues, antiproteases, anti-inflammatory agents, Extracorporeal Membrane Oxygenation and lung transplantation.
"With a variety of treatment options, we will overcome the Covid-19 pandemic era," he said.