September 19, 2019
Nepali women still grapple with sexist language and expressions that most men easily dismiss.
Throughout her time as a Deputy Inspector General of Nepal Police, Bimala Thapa was referred to as "Sir" by her subordinates. She tried several times, during her initial days in the role, to explain to officers that she would prefer to be referred to as "madam"— not sir. But she eventually gave up and stopped correcting people.
"It seemed futile to discuss the issue because even those who should have understood why it matters treated it lightly," says Thapa, whose superiors would also acknowledge her as sir. "Many probably don't see why this is demeaning, but it used to feel like they thought that those in power were always supposed to be men."
It's no surprise that Nepali society still harbours stereotypes when it comes to gender. With time, progress towards gender equality has been made. But with deep-rooted patriarchy, even in the most liberal environment, there are certain terms or phrases that are used only to describe women—especially when they are breaking or attempting to break out of the mould. But that kind of sexism in language has also become so normalised that people don't bother to understand why it may sound wrong to women—and even to some men.
"It will probably take another generation to get rid of patriarchy," says Thapa. "It's so ingrained in us and in the language we use that we don't even see we are being discriminated."
In the courtrooms, the word that is still officially used to address court magistrates is 'Shrimaan'—it's also a word colloquially used to refer to 'husband.' After discussions were held over the honorific, which also suggests—perhaps unintentionally—that a judiciary body can only be men, many have begun using the alternative address: mananiya nyaidhis jiu (honourable judge), which is gender non-conforming.
However, Geeta Pathak Sangraula, a senior advocate, believes it could just be the patriarchal lens that is making it look derogatory.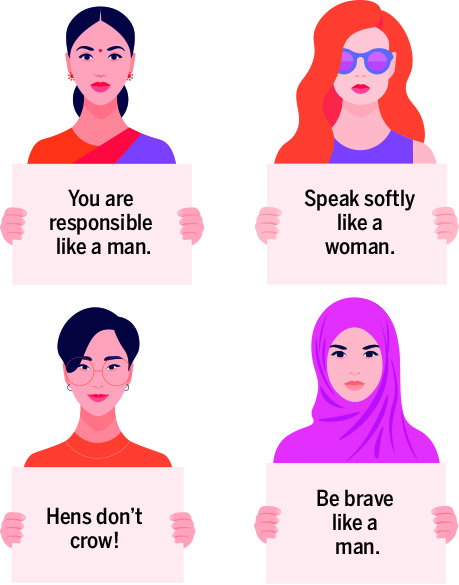 "Shri is an honorific title used for both women and men. But I think maan comes from the word 'mananiya'—meaning honorable," says Pathak, who does agree that the extensive use of the word for husband makes it inappropriate for women.Apart from these titles, there are certain phrases in Nepali language that undermine women in terms of social position and capability.

One of the most sexist phrases that women have often been complimented with is Chori bhayera pani chhora jasto kaam garyo (you are as responsible as a son), says Paavan Mathema, a journalist at Agence France-Presse. "It's difficult to denounce such compliments because it usually comes from the elders," she says.

Eighteen-year-old Swastika Chaudhary, a national player of sport climbing, says she is often complimented by her friends for having arm strength when they are arm-wrestling for fun. "Your hands are like that of a man," they tell her to praise her strength, she says.

Often proactive and courageous women in Nepali families are complemented with phrases like "You are brave like a man" or "You behave like a man." But that just shows how patriarchy has characterised women and men, says Mathema. "Women are just being themselves. Comparing them to men isn't a compliment at all."

Not all stereotypical comments passed to women are compliments. Instead, they are a reinforcement of how society wants to box them in certain gender roles. Phrases like 'Keti bhayera pani kasto thulo swor le boleko,' (How can you speak loudly when you are a woman?) are an indication of how women should act like women, says Bunu Dhungana, a visual artist.

Others say the term many men may consider endearing to use while addressing women is also equally problematic.

"Many male workers try to impose an informal relationship by calling female workers bahini, or a sister. It's their way of playing power games," says Radha Wagle, one of the members of Female Foresters Network, a communal women group under the Ministry of Forests and Environment. "Even at office spaces where people are supposed to be professional, they try to associate us with the role of a caretaker, as though we are not supposed to be in the workplace."

Female Foresters Network has organised various advocacy campaigns to raise awareness among local women about the sexism in the Nepali language.

"We try to make them understand why some phrases that may sound like compliments are derogatory," says Wagle.

Some women say talking about how such language affects people can help change the concept of women that patriarchy has created.

"Yes, many people say, women's issues are discussed enough, but the fact is we need to talk about women's issues because men are everywhere and women are still largely oppressed," says Dhungana. She compares the attitude to the old discriminatory proverb: pothi basdaina, meaning hens don't crow, essentially asking women to shut up.

"By talking about it, we are asking to be treated as equal," she says, "so that we can get rid of the concept of competing with men because we are not competing with them."