February 22, 2023
BANGKOK – The statement by Invest Hong Kong came as China's Special Administrative Region (SAR) is bouncing back from the Covid-19 pandemic, combined with promising signs of China's border opening.
Stephen Phillips, director-general of Investment Promotion, Invest Hong Kong, said at a group interview on Monday that after these difficult few years, it was now time to move forward.
Hong Kong could be a good place to start exploring global trade and investment, he said.
He noted that while some international financial institutions had previously predicted that Hong Kong's economy would grow by only 3.3% this year, Hong Kong still had other aspects to empower entrepreneurs, startups, and investors expand their operations.
A macroeconomic outlook can provide an overview of a country's economic trajectory. However, for business people, macro data is a million miles away from the dynamics of their own company, Phillips said.
He clarified that there is almost always a business opportunity in every crisis. It is simply up to the owners to make the necessary decision to move forward.
For entrepreneurs considering doing business outside of their home country, Hong Kong may be all they need, he said.
The director-general of Invest Hong Kong highlighted some distinct advantages that the territory can offer Asean, including Thailand, that no other place can.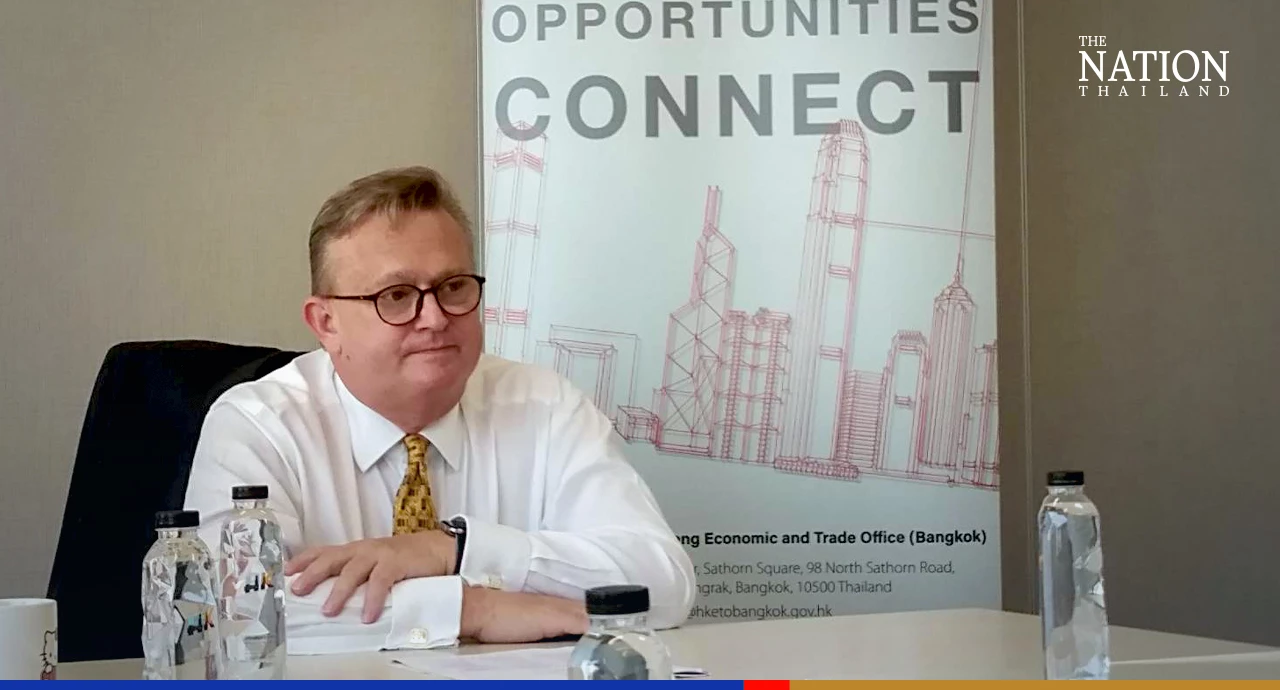 First, Hong Kong is a territory with very simple and easy-to-follow business laws and regulations.
Second, the government has tailor-made incentives and measures for tax deduction and financial support for most businesses, particularly those that have a significant impact on Hong Kong's economy and employment, such as R&D, digital technology, and innovations.
"The Hong Kong government has over 40 enterprise funding schemes. Companies can receive funding for a variety of business initiatives, including branding, sales promotions, technological services to increase productivity, acquiring business installations, and more," Philips noted.
Third, Hong Kong continues to be a leading global financial centre, with liquid capital markets, a fully convertible currency (the Hong Kong dollar), and free flow of goods, information, and capital. The SAR is home to 77 of the world's top 100 banks.
Fourth, with a less than five-hour flight time to any Asean country, Hong Kong is geographically well-positioned to connect Asean with China and Far East Asia.
Phillips also highlighted some opportunities for Thai entrepreneurs seeking an efficient business environment in which to grow their businesses or expand their brands in the international market.
Some of the opportunities he mentioned for Thai businesses include retail, hospitality, spa and wellness, and food and beverage.
He insisted that Thai products, foods, and hospitality are among the most popular for Hong Kong residents and international tourists who visit the islands.
Phillips estimates that after the pandemic, the number of international tourists will return to around 60 million per year in the coming years. This number means a boom for the consumption and retail sector.
"Hong Kong retail sales provisionally reached 1,588 billion baht in 2021 – even amidst pressure from the Covid-19 pandemic. This shows the resilience of Hong Kong's retail markets despite challenging economic conditions," he said.
According to Hong Kong's Commercial and Economic Development, Thailand was the fourth largest trading partner of Hong Kong in merchandise trade among all Asean member states in 2021, with total merchandise trade value of approximately $20 billion.
Meanwhile, the Hong Kong Trade Development Council reported that Thailand is Hong Kong's 10th largest trading partner, with bilateral trade exceeding $20.5 billion in 2021, accounting for 1.6% of total trade. Last year, Hong Kong's exports to Thailand were worth US$7.337 billion, while imports were valued at $13.182 billion.
He confirmed that under the "One China, Two Systems" policy, Hong Kong retains its own regulations and a degree of autonomy when it comes to doing business.
When asked what the difference was between Hong Kong and China when a company considers entering the Chinese market, he said that if a company had a specific destination in mind, such as Shanghai or Guangdong, it would be preferable to go directly.
If a company intends to enter mainland China as a whole, it is best to establish a presence in Hong Kong and open some branches in China.
"If you are looking for some opportunites outside Thailand, Hong Kong is one of the best," he reiterated.
The Hong Kong Economic and Trade Office (HKETO) in Bangkok is a subsidiary of Invest Hong Kong, a Hong Kong SAR government agency. The agency's mission is to attract and retain foreign direct investment in order to strengthen Hong Kong's position as Asia's leading international business location.
HKETO Bangkok is one of 14 international HKETOs serving Thailand, Cambodia, Myanmar, and Bangladesh. The branch is in charge of promoting bilateral relations between Hong Kong and these four countries.