March 8, 2023
SEOUL – Bunsik, literally food made with flour, has its beginnings in the early 1960s.
Since rice was scarce and expensive in postwar Korea, the government promoted the consumption of mixed grains and flour noodles.
The campaign to eat more mixed grains and flour faded out in the 1980s, and bunsik came to mean inexpensive eats that you could either have as a snack or as a meal in itself.
Most small diners, known as "bunsikjib," serve what have become popular street food — from gimbap, tteokbokki, ramyeon and eomuk (fish cake) to assorted twigwim (deep-fried vegetables, meat and seafood, among others).
Although the term still refers to snack-type meals, bunsik has become an option that many crave — not so much for the reasonable price, but for its addictive flavors and taste.
Dosan Bunsik is located a block away from Dosan Park in a posh Sinsa-dong neighborhood lined with fine dining restaurants. It serves bunsik in a nostalgic but creative way, and has customers standing in line for over half an hour on weekends.
More than just spicy rice cakes
Tteokbokki is a must at Dosan Bunsik, but there are other offerings that should be tasted — donkatsu sando (pork cutlet sandwich), yukhoe gimbap (beef tartare gimbap), myeongnan egg rice (rice topped with salted pollack roe and egg) and yukgaejang (spicy beef soup) ramyeon.
The dishes are created by chefs based on their own childhood memories of eating bunsik after school.
"We all have memories of 'bunsik time' with friends. But as an adult, it became harder to enjoy them at a decent place," Park Do-kun, brand manager of Dosan Bunsik, told The Korea Herald Monday. "We opened a bunsik restaurant with a retro but classy interior and design. We opened it in the middle of Apgujeong on purpose, since people like us miss having bunsik, even in this fancy neighborhood."
Dosan Bunsik serves soupy tteokbokki, using wheat flour tteok (rice cakes) rather than traditional rice flour ones. Wheat flour tteok absorbs the gochujang paste more fully, making for a more flavorful bite each time.
Eomuk-twigim, crispy and chewy deep-fried fish cakes, are served on top of the tteokbokki.
"Since our tteokbokki is spicy, we thought of other dishes that could balance the spiciness."
Myeongnan egg rice or yukhoe gimbap fall on the sweeter side. Since tteokbokki lovers value the unique taste of the sauce, Park said that other menu items can be dipped into the tteokbokki sauce or poured on to have them together.
Dosan Bunsik's signature drink, Dosan Sweet Morning, is a concoction of milk, ginger and honey with a rice drink brand called Achimhaetsal as its base.
"About 10 percent of our guests have been foreigners. Many of them particularly liked the Dosan Sweet Morning, saying that it's a Korean version of milk tea." Park said.
Dosan Bunsik dishes range in price from 7,800 won to 10,000 won, and the Dosan Sweet Morning costs 4,500 won.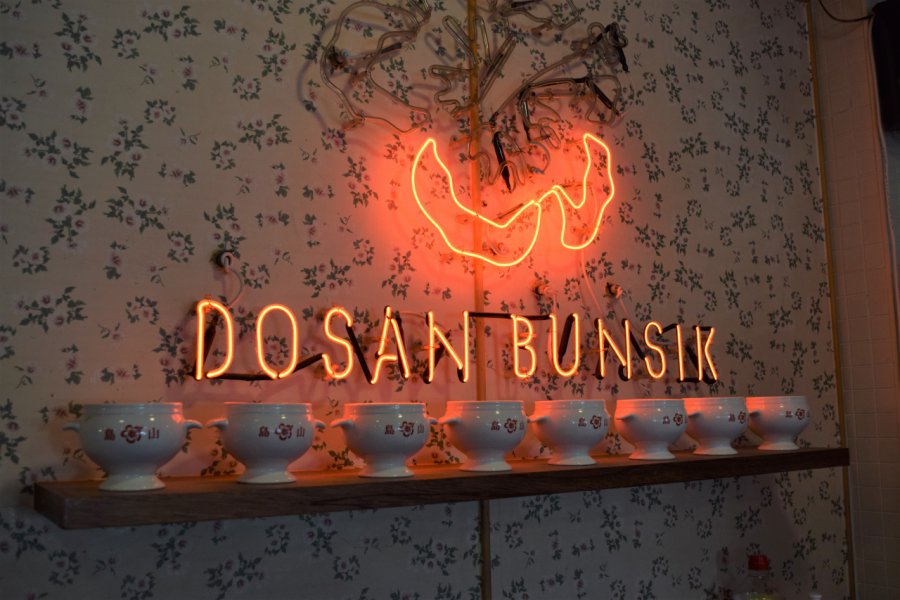 Dosan Bunsik is not only known for its food, but also for its stylish and homey interior.
When asked how the concept for Dosan Bunsik developed, the brand manager emphasized the cosmopolitan vibe of the restaurant with a fictional story. "Imagine a young and ambitious guy living in Brooklyn. Impressed by the taste and warmth of Korean bunsikjib during his travels, he decides to open his own in his hometown. But before he returns to Brooklyn, he stops by Japan for a few days and gets inspired by diners' unique interiors and designs. Dosan Bunsik is the restaurant the guy finally opens in Brooklyn."
Water bottles, cups and tableware are designed to reflect a typical Korean bunsik eatery from the '80s and '90s. The signage, lights and view of the open kitchen, however, imparts the feel of a burger joint.
The restaurant, which celebrates its fifth anniversary this month, plans to target major foreign cities with bunsik.
"We want to make a new wave in the global restaurant scene, with one of the most humble types of Korean food that we all enjoy, bunsik."