July 19, 2019
Sunny Shakya explores his inner child with his exhibition 'Toygraphy'.
A portrait of Captain America and Hulk figurines riding a bicycle in Kathmandu's streets welcomes visitors at the entrance of Siddhartha Art Gallery in Baber Mahal Revisited. The beloved action figures have red tika on their forehead, jamara tucked behind one ear, and red and white garlands around their neck—all of which symbolises Dashain celebrations. Hulk is even wearing a dhaka topi and a chain of Nepali flag.

One look at the poster, and any Marvel fan can get drawn to the Nepali look on the blockbusters' superheroes. But 30-year-old Sunny Shakya's exhibition, titled Toygraphy, offers more than just Nepali versions of some iconic characters of Marvel Cinematic Universe—there are plenty of other toys that are part of the exhibition: from Disney's Moana, Pirates of the Caribbean to James Cameron's Terminator followed by a few of DC's characters as well. Collectively, it's a toygraphy (a portmanteau of toy and photography) portfolio created and curated by Shakya's love for the two.

"When I was a child, I couldn't play with many toys," says Shakya, who recalls being fond of movies and animations since an early age. "Now that my age is considered suitable for marriage, people joke that I'm playing with toys instead."

The exhibition displays a series of pictures that present Shakya's imagination and humour intertwined with Nepali society—including festivals, instruments, vehicles, popular culture and even social movements. His work exhibit toys as real and vocal as living beings, while also scripting short pictorial scenes. For example, Marvel's beloved green giant mutant Avenger Hulk is portrayed as an ideal Nepali citizen, aptly named Hulk Bahadur and Hulk cha. He is dressed up in daura surwal, and seen participating in the recent Guthi Bill protests, which shows how Shakya's toygraphy isn't limited to imitating and staging action scenes, but also addresses serious issues.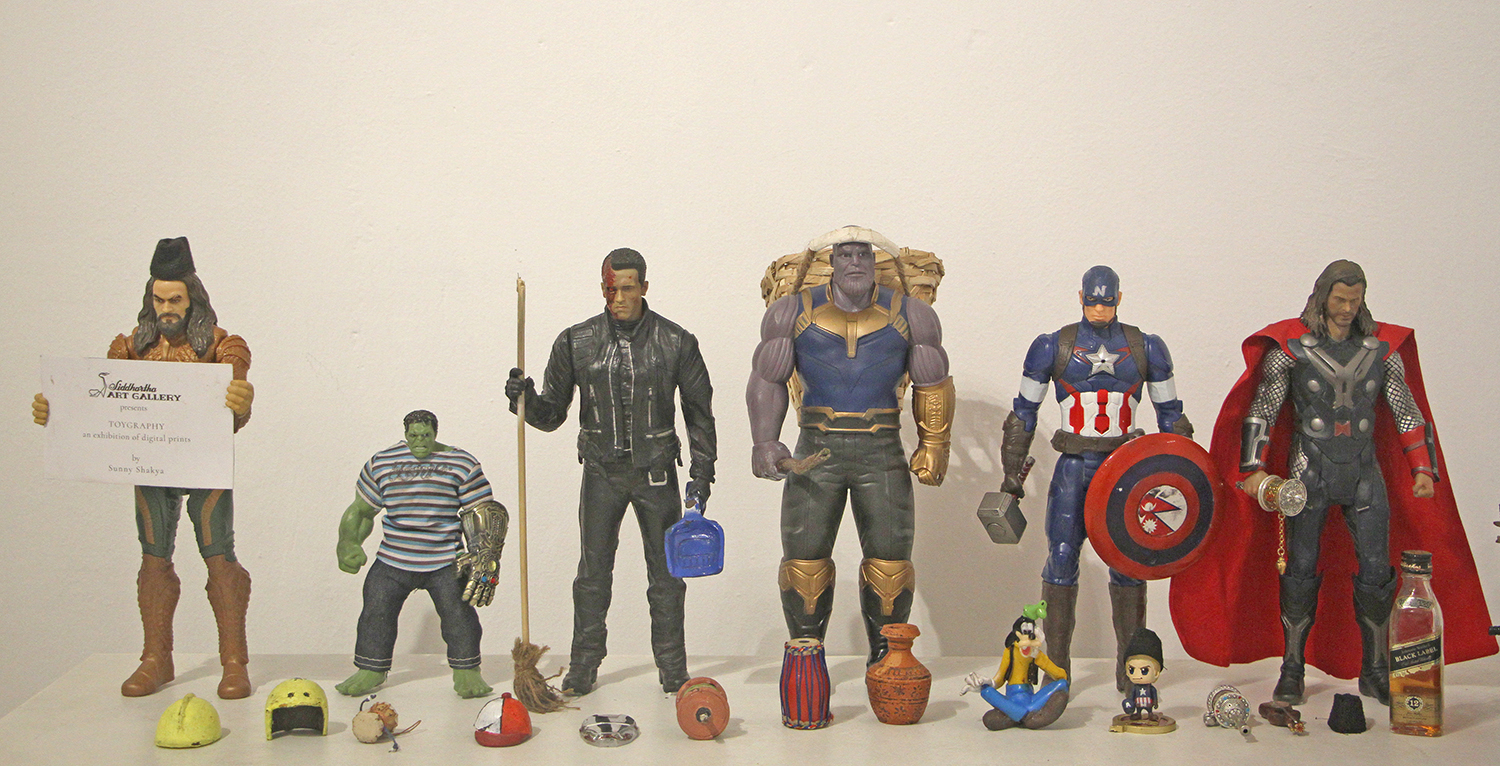 "Hulk's expression depicts the sentiments well during serious issues," says Shakya.

But Shakya's photography doesn't only intend to share a particular scene, they are also displayed as sequential stagnant frames of a movie. In the exhibition, he narrates two series of love triangles: a complicated love story between DC's Superman, Batman and Wonder Woman, and another of Hulk cha, Thor, and Barbie maicha.

Shakya cleverly weaves a narrative for the two stories by inserting a unifying scene, where Batman is seen enjoying a tea party with Hulk. The pictures tell how Batman is done reciting his story, and asks Hulk to share his. The same unifying scene is recreated in the exhibition as well.

However, none of these scenes would be conceived if it weren't for a random shot Shakya took in September of 2018, which was of a pair of cheap dolls set against the backdrop of Bhaktapur Durbar Square. It was this picture that inspired him to take up this path into toygraphy.

A sculptor by profession, Shakya hadn't taken photography seriously until then. When he would not be pursuing his hobby, he carved figures of deities out of beeswax. But Shakya says he had never felt a sense of happiness and recognition from his professional career. And if it weren't for the art of capturing toy portraits, Shakya says he might not have been satisfied as an artist.

"All these years, I longed for appreciation and it's unbelievable how pursuing my hobby made it happen," says Shakya.

Although toygraphy as an artistic genre isn't buzzing yet with Nepali photographers, Shakya isn't the only one pursuing it. Contemporary Nepali photographers on Instagram like @Nibhal, @PhotoKhichuwa, and @tenzingsamdup also seem to practice it occasionally.

But Shakya's use of Nepal's heritage sites and other popular spots as backdrops for his photos and his way of adorning toys with national costumes sets him apart from other photographers. He uses his phone to capture and edit pictures. His way of highlighting social issues with his toys has also helped viewers establish a connection with his work. But Shakya still has huge room for improvement.

Shakya has a fairly good eye for perspective, but at times, his pictures lack balance, meaning sometimes it appears as if he's practising miniature photography and sometimes the subjects are depicted as real-life figures—leaving viewers confused.
Although Shakya has beautifully crafted props to add more value to the pictures, at some point, they seem forced, like the Batman figurine who is seen wearing a dhaka topi on top of its mask looks unnecessary—and a bit heavy. In most pictures, Shakya appears to be experimenting with obvious Nepali props and does only little image manipulation to be on the safe side.

A few of Shakya's concepts are laudable and vividly portray the happy-side of sad stories one experiences in cinemas. Shakya's cinematic universe has replaced Thor's hammer with Lord Shiva's Trishul; Thanos is enjoying carrying a doko full of freshly cut grass—just as he would have loved—and even the infinity gauntlet is depicted as a symbol of hope to bring back Nepal's lost monuments.

Shakya's ideas are engaging and interesting. And he is excited for what lies ahead for his passion. He hopes to buy toys from abroad that are more realistic and plans on expanding his collection. "I feel happy as an artist now," says Shakya. "People once thought I was crazy but I love knowing that now they enjoy my art."