May 22, 2019
Exit Polls show the BJP in the lead after the end of elections.
Voting in India's mammoth national election ended Sunday with the seventh and final phase of a grueling poll that lasted more than five weeks, as exit polls predicted a victory for Prime Minister Narendra Modi's Hindu nationalist party and its allies, The Associated Press reported.
While opposition parties refused to concede and the country faces a nerve-jangling three-day wait until the official count begins, most media polls said Modi's Bharatiya Janata Party, or BJP, and its allies would secure enough seats to form a new government after the world's biggest election, according to Agence France-Presse.
Exit polls by four leading television news channels-Republic, TimesNow, New Delhi Television and India today-projected a victory for the BJP and its allies with 287 to 339 seats out of 543. That would be far ahead of the 272 seats needed to form the next government.
The Congress party and its allies are likely to win 122 to 128 seats, the TV channels said. Indian television channels have had a mixed record in the past in predicting election results.
Total voter turnout in the national election was 64.9 percent, the election commission said, lower than 66.40 percent in the last national vote in 2014.
Sunday's voting covered Modi's constituency of Varanasi, a holy Hindu city where he was elected in 2014 with an impressive margin of over 200,000 votes. Modi spent Saturday night at Kedarnath, a temple dedicated to the Hindu god Shiva, nestled in the Himalayas in northern India.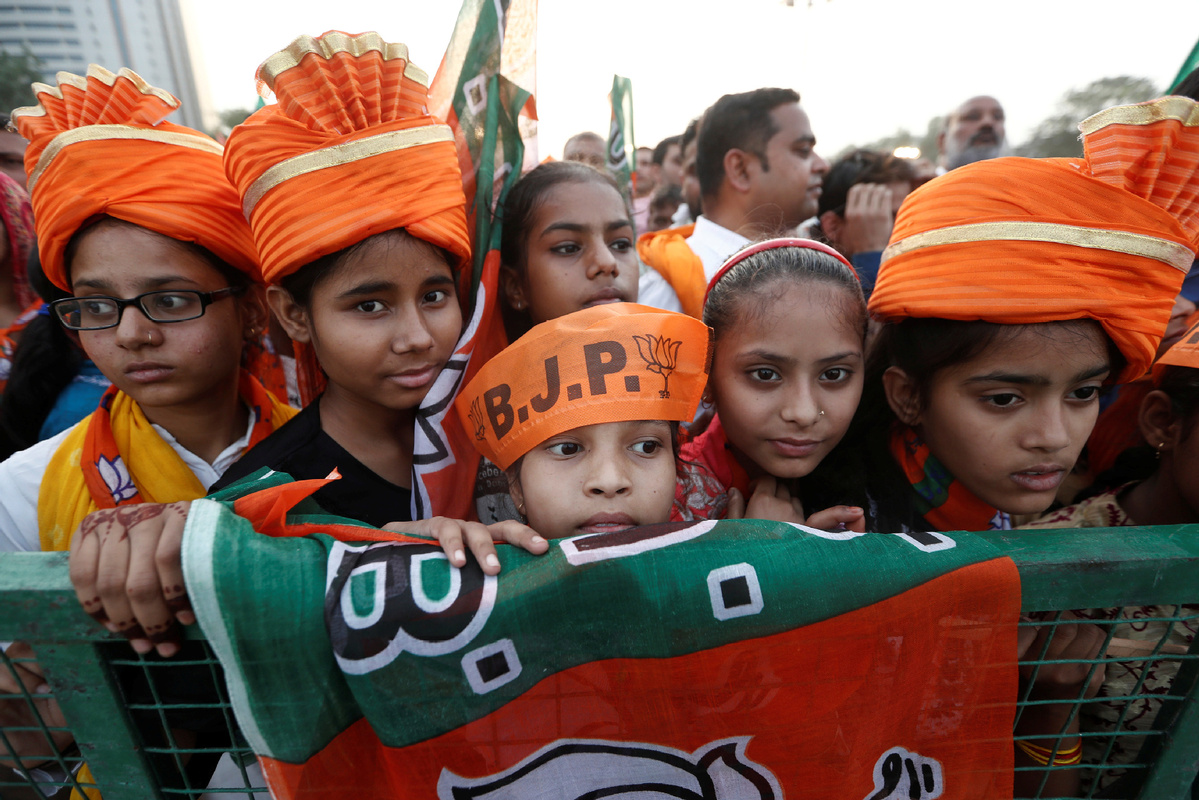 The final election round included 59 constituencies in eight states. Up for grabs were 13 seats in Punjab and an equal number in Uttar Pradesh, eight each in Bihar and Madhya Pradesh, nine in West Bengal, four in Himachal Pradesh and three in Jharkhand and Chandigarh.
BJP spokesman G.V.L. Narasimha Rao said, however, the polls "clearly show a huge positive vote for the leadership of Narendra Modi who has served the country with unmatched dedication".
"That people reward good performance has once again been proved by the overwhelming public mandate. This is a slap for the abusive opposition that made baseless charges and spoke lies," he added.
The Bombay Stock Exchange Sensex Index surged 2.69 percent in morning trading while the Indian rupee strengthened to 69.54 per dollar from its Friday close of 70.22.
"The markets are happy that the same government with Modi at the helm may come back and there is no political uncertainty. The BJP and Modi are seen as pro-business and pro-reform," said Ashutosh Datar, a Mumbai-based economist.
Traders said the rally may not last as the Indian economy has long-term problems.
Most polls predicted the BJP would lose some seats but still form a government.
The BJP won 282 of parliament's 543 elected seats in its 2014 landslide triumph. With allies, it controlled 336 seats.