August 10, 2018
The former prime minister was served with new charges on Wednesday—adding three counts of money laundering to his growing list of alleged transgressions.
Very few people expected Najib Razak, Malaysia's former prime minister to fall so quickly or so far.
Many believed that his grip on power—through control of the country's courts and its media—was so ironclad that even a multibillion-dollar corruption scandal that stretches back nearly a decade would be unlikely to tip the scales against him.
But tip the scales it did. On May 9 the results of Malaysia's national elections shocked the world. Voters cast their ballots overwhelmingly in favor of the opposition, led by Mahathir Mohamad, the 92-year-old who served as Prime Minister from 1981 to 2003 and who campaigned on a promise to bring Najib, his onetime protegé, to justice.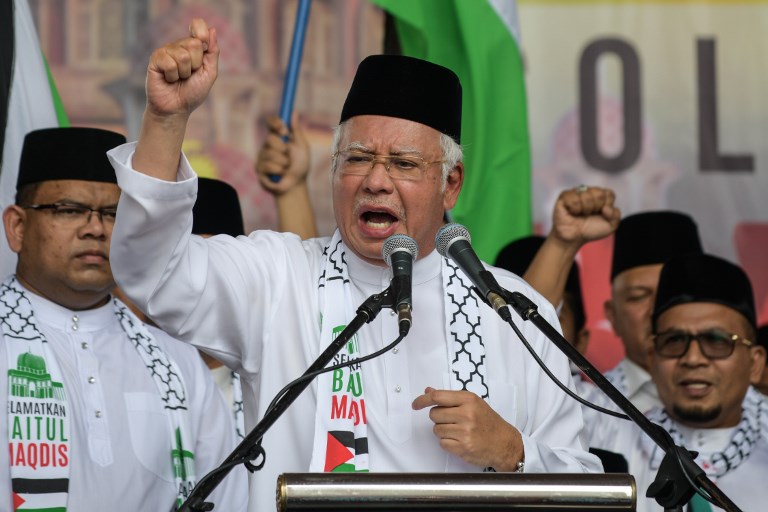 In a single night, Najib, the son of one former prime minister and the nephew of another, went from being completely untouchable to deeply vulnerable.
Investigations in Malaysia, Switzerland and Singapore, as well as an inquiry by the United States Justice Department, implicate Najib in the diversion of billions of dollars from 1Malaysia Development Berhad—a state infrastructure investment fund he oversaw as the chair of its advisory board since 2009, the year he became Prime Minister.
Prosecutors say that money was funneled into Najib's personal bank accounts and was subsequently spent on opulent mega-yachts, paintings by Van Gogh and Monet, and an ornate collection of accessories—luxury handbags and jewels— that brings to mind the indulgences of former Philippines dictator Ferdinand Marcos and his wife Imelda.
Three days after the election, Najib and his wife were barred from leaving the country. In Late June, the government began seizing these assets from the former PM and his wife. And, less than two months after his ouster, in early July, Najib was arrested at his home and charged with three counts of criminal breach of trust and one count of corruption.
Malaysian authorities have now added even more charges against the former leader. On Wednesday, Najib was charged with three counts of money laundering. These new charges are related to three separate electronic transfers worth $10 million that were made from SRC International, a former unit of 1MDB to one of Najib's personal bank accounts.
Najib has pleaded not guilty to every single charge, including these three new counts, and has consistently insisted that he has no knowledge of how these funds made their way into his own accounts. He also maintains that the luxury items that have been seized were merely from gifts foreign leaders and friends.
If convicted, Najib faces a punishment of up to 15 years in prison and fines of up to five times the amount involved.
United States federal prosecutors are also looking into the role that Goldman Sachs, which handled an array of services for the 1MDB fund, may have played in these crimes.