August 5, 2019
Hong Kong government condemns protester actions over the weekend.
Hong Kong's government and police force strongly condemned the radical and violent acts conducted during a series of protests across various locations in east and west Kowloon from Saturday night to the early hours of Sunday.
In a statement issued close to 7 am on Sunday, the police vowed that "resolute" law enforcement actions would be taken against all illegal and violent acts, and that the force is "capable and determined" to maintain law and order and would not tolerate any violence.
So far, the police has arrested more than 20 people for offences including unlawful assembly and assault.
In a government statement issued six hours earlier than the one from the police, a spokesperson said: "the government strongly condemns the radical protesters who disregarded the law and order, blatantly breached the public peace, and even challenged the national sovereignty."
"Violent protesters who breached the law should also be brought to justice," the spokesperson said.
The statements were in response to another weekend of chaos and violence in Hong Kong. A large group of protesters deviated from the approved assembly route in Mong Kok and marched towards the city's tourist-heavy district of Tsim Sha Tsui. During the march, some protesters removed roadside fences and created barricades at major crossroads, causing serious obstructions to traffic.
After arriving at Tsim Sha Tsui, some protesters headed to Hung Hom, where the cross-harbor tunnel is located. They used water barriers, fences and other objects to block the entrance of the toll plaza, bringing a complete halt to traffic coming from either direction.
Protestors then headed back to Tsim Sha Tsui, where they surrounded the police station, vandalizing the facilities outside and also setting fires at various locations. Some protestors were suspected to have deliberately damaged the national flag.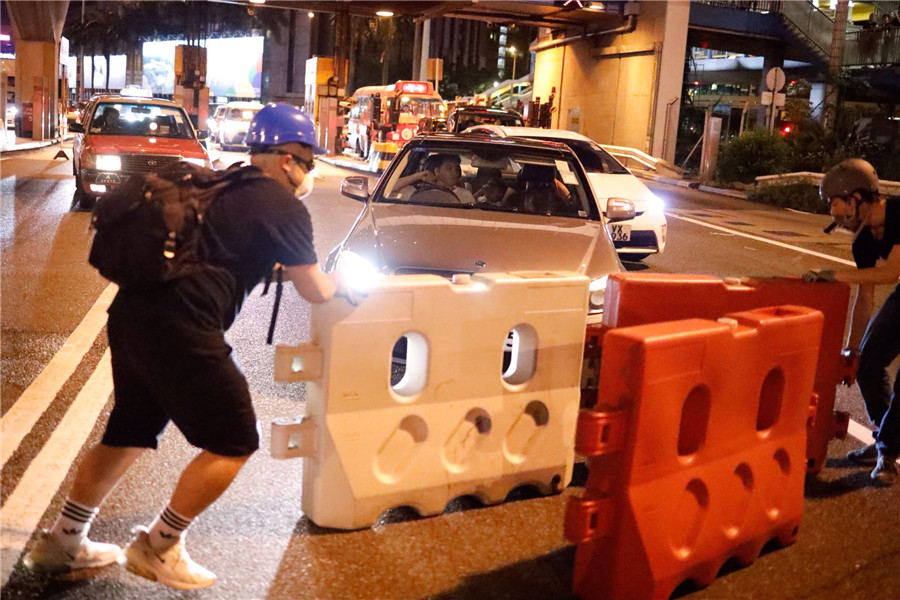 More than 20 vehicles inside the Tsim Sha Tsui police station were damaged.
Police issued several rounds of warnings during the afternoon protests, urging protesters to leave the premises as soon as possible. But the warnings were not heeded, leading to crowd-dispersal operations.
In the late evening hours of Saturday, another group of protestors marched toward Wong Tai Sin. Some radical protestors surrounded police officers on site and used fire extinguishers to attack them. Police vehicles at the scene were vandalized by miscellaneous objects hurled by protestors.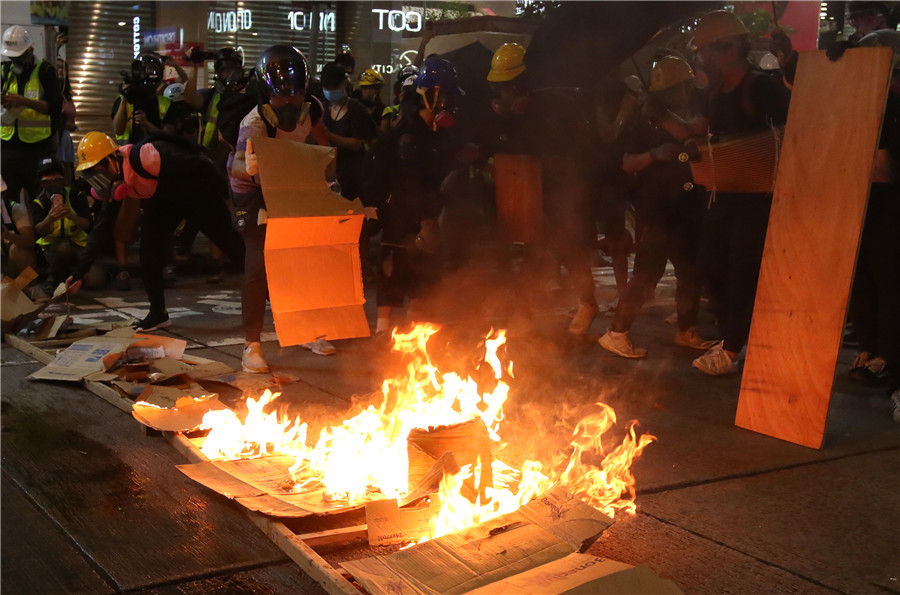 A group of violent protestors subsequently surrounded the Wong Tai Sin Disciplined Services Quarters. They hurled fireworks and other objects into the building, broke the windows of lower-floor residential units, and damaged the car park gates and other government property.
Shortly after, protestors used water barriers and other objects to block Lung Cheung Road in the northern part of Kowloon, causing severe obstructions to traffic. Protestors also blocked the lanes of the cross-harbor tunnel in Hung Hom again.