February 21, 2023
NEW DELHI – A group of 108 South Korean Buddhist pilgrims is weaving its way through India, walking in the footsteps of Buddha.
They are on a 1,167km-long pilgrimage for world peace that India hopes will energise the country's Buddhist pilgrimage route.
The 43-day pilgrimage marks 50 years of diplomatic relations between India and South Korea at a time when both sides are seeking to deepen ties, including people-to-people engagement.
Since starting their walk on Feb 9 in the northern state of Uttar Pradesh from the Dhamek Stupa, where Buddha gave his first sermon after enlightenment, the pilgrims – both monks and devotees – have already walked 235km, entering the eastern state of Bihar on Feb 14.
Accompanied by police and vehicles carrying their tents and food, the pilgrims are from the Sangwol Society in South Korea, which is one of the East Asian nation's largest Buddhist societies.
They will pray for world peace at an assembly on Tuesday in front of the bodhi tree, a sacred fig tree and descendant of the tree under where Buddha got enlightenment, at Mahabodhi Temple situated in Bodh Gaya – one of Buddhism's holiest sites.
The pilgrims, one of the largest groups to travel on India's Buddhist circuit, will cross over to Nepal on the 34th day of their journey to visit Lumbini, the birthplace of Buddha, before returning to India through Uttar Pradesh.
They will end their walk on March 20 at Uttar Pradesh's Jetavana Monastery, where Buddha spent much of his time and delivered sermons.
"This is the first of its kind. A unique people-to-people contact," said South Korean Ambassador to India Chang Jae-bok.
"At a time when the world is beset by conflicts, Lord Buddha's age of peace and compassion is the need of the hour. We are confident this will go a long way in further deepening people-to-people ties and popularise Buddhist pilgrimage routes in India," the ambassador added.
One-fifth of South Korea's population is Buddhist.
In addition to the historical connection to Buddhism, there are 8.4 million Buddhists in India, making up 0.7 per cent of the population.
But it has not been able to increase the number of pilgrims from other countries compared with Thailand, Sri Lanka or Nepal.
Buddhist pilgrims to India are mainly from Sri Lanka, Myanmar, South Korea, Malaysia and Thailand. In 2019, more than 500,000 foreign tourists and pilgrims visited Bodh Gaya, in contrast to nearly two million people annually visiting Nepal's Lumbini.
Mr Rakesh Kumar, president of the Bodh Gaya Tourist Guide Association, said the South Korean pilgrims' walk will "showcase India", but he noted a need to improve infrastructure and connectivity.
There is only one international flight from Bangkok, and some charter flights from other countries, which land at the closest airport in Gaya, some 10km away.
"The stakeholders like us have been saying that there should be regular flights to Gaya from Bhutan, Nepal, Singapore, Japan, South Korea," he said.
Over the past few years, the Indian government has focused on improving infrastructure along the Buddhist religious circuit. An airport opened in Kushinagar, Uttar Pradesh, in 2022 to facilitate the movement of Buddhist pilgrims.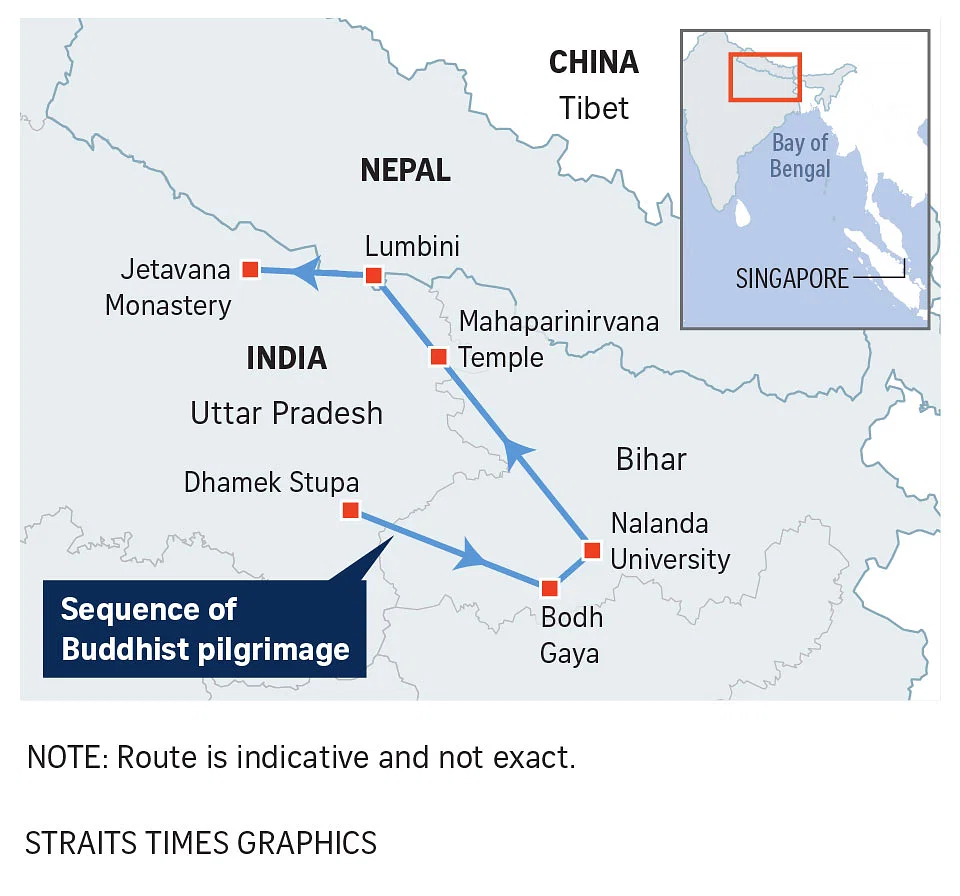 The Indian Railways also runs a Buddhist tourist train touching key pilgrimage spots.
"However, a lot needs to be done to address facilities and connectivity, paucity of good hotels, attention to cleanliness, wayside amenities and ensuring the safety of pilgrims," said Mr Mihir Shekhar Bhonsale, assistant policy analyst at Cuts International, Kolkata, an advocacy and consumer empowerment non-profit organisation.
"The private players, especially in hospitality, need to be forthcoming in tapping the huge market and taking it to its zenith.
"The Buddhist tourism sector will grow only with the diversification of tourists – from the existing budget pilgrims to luxury tourists. Source markets like Japan, Korea, Thailand, Singapore, China, Myanmar, Malaysia and Indonesia are of utmost importance."
Boosting Buddhist tourism is also seen as a way to help India strengthen links with South-east and East Asia through soft-power diplomacy at a time when the country is taking on a global leadership role, said analysts. India is hosting the Group of 20 summit this year.
"Efforts at trying to revive India's image of being the land of Buddha provide New Delhi an opportunity to augment neighbourly ties, particularly with South-east Asia," Mr Bhonsale said, adding that it allows India to "project its soft power and counter China's dominance in the Indo-Pacific region".